SHOW INFO
STORY
Set 500 years in the future in the wake of a universal civil war, FIREFLY tells the tale of Serenity, a small transport spaceship without a homeport. Captain Malcolm ("Mal") Reynolds commands Serenity for legitimate transport and salvage runs, as well as more "entrepreneurial" endeavors.
On Serenity, crew and passengers live together in close quarters as they shuttle between the Alliance-governed galaxy and the border planets that delineate the new frontier. The crew undertakes almost any job -- legal or not -- to stay afloat and put bread on the table. Each of the passengers has his or her own motivation for being on board - some honorable, some more questionable. All have unique pasts and different reasons for wanting to get to their destination.
Serenity and its crew flies to the border planets, many of which are barely inhabited, because they want to stay away from the Alliance and below its big radar. Thrust together by necessity, the disparate men and women of Serenity face constant challenges, which test and reveal their true identities. FIREFLY is about their unpredictable lives and relationships, as well as their search for meaning in a very uncertain time.
CHARACTERS/CAST
"You're probably safer on the move," the captain of Serenity tells a reluctant, new crewmember, "and WE NEVER STOP MOVING."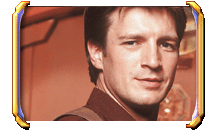 Malcolm "Mal" Reynolds – "The Captain"
Mal is Serenity's captain. He is a defeated soldier who opposed the unification of the planets by the Alliance to no avail. The world he called "home" now gone, Mal does what he needs to do to keep Serenity flying and its crew intact. Uncertain of his role in peacetime, Mal wants a normal life, but at the same time knows he'll probably never have one – an ongoing internal conflict.
NATHAN FILLION
(Captain Malcolm "Mal" Reynolds in FIREFLY)
Canadian-born Nathan Fillion most recently appeared as a series regular on the comedy series "Two Guys and a Girl," where he portrayed likeable jukebox repairman Johnny Donnelly. Fillion recently wrapped production on the independent feature film "Wicked Season" opposite Emmanuelle Vaugier ("40 Days, 40 Nights").
A veteran of Canadian stage and television productions, Fillion was attending the University of Alberta when he made his US debut in the telefilm "Ordeal In The Attic" starring Richard Chamberlain. Fillion was then cast in the daytime drama series "One Life To Live," for which he garnered a Daytime Emmy Award nomination for his portrayal of Joey Buchanan. After completing a successful three-year run on the series, Fillion moved to Los Angeles, where he landed roles in the feature films "Blast From the Past," "Saving Private Ryan" and "Wes Craven Presents Dracula 2000."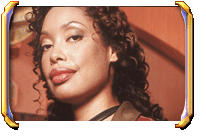 Zoe – "The Soldier"
Zoe served with Mal during the war and is very loyal to him. She owes her life to Mal and is torn between that debt and her future with her husband Wash. Zoe has the strength and experience to take command of the ship, if necessary.
GINA TORRES
(Zoe in FIREFLY)
Standing just shy of six feet, Gina Torres is familiar to television audiences for her role as Jennifer Garner's arch nemesis, Russian-accented Anna Espinosa, on "Alias." Torres recently completed work on the sequels to "The Matrix" ("The Matrix Reloaded," "The Matrix Revolutions"), slated for release in 2003.
The youngest of three children from a Cuban family living in the Bronx, and a graduate of the Fiorello LaGuardia School of Arts, Torres is a gifted mezzo-soprano, as well as a jazz and gospel singer. Following her high school graduation, she made her professional debut as the lead in "Dreamgirls" in a Connecticut production.
Over the next several years, the ingenue amassed an impressive list of versatile stage credits, including two lead roles on Broadway in "The Best Little Whorehouse Goes Public" and "Face Value." Working with such acclaimed directors as Dan Sullivan, Tommy Tune and Jerry Zaks, she starred in "Antigone," "Blood Wedding," "A Raisin in the Sun" and "Ma Rainey's Black Bottom," among other productions.

It was a recurring character she played on the daytime drama "One Life to Live" that brought Torres to the attention of producers Rob Tapert and Sam Raimi. After casting her in guest starring roles in "M.A.N.T.I.S.," "Hercules: The Legendary Journey" and "Xena: Warrior Princess," Raimi and Tapert cast her in the ALMA Award-winning role of Hel in the futuristic adventure series "Cleopatra 2525."

Torres and actor Laurence Fishburne will wed in New York this fall.


Wash – "The Pilot"
Wash flies Serenity and is Zoe's husband. He is unassuming, self-deprecating and not at all the fiery-hero type. He is the calm one with a sense of humor.
ALAN TUDYK
(Wash in FIREFLY)
Texas-bred actor Alan Tudyk has become known for leading stage roles in off-beat productions as well as scene-stealing supporting turns in film. A graduate of the Juilliard School, Tudyk appeared in several regional and off-Broadway productions before making his Broadway debut in "Epic Proportions."

Most recently Tudyk was heard as several voices in the animated feature film "Ice Age." He is familiar to movie audiences from his turns in "A Knight's Tale" opposite Heath Ledger, "28 Days" opposite Sandra Bullock and "Hearts in Atlantis" opposite Anthony Hopkins. His additional feature credits include "Wonder Boys" and "Patch Adams."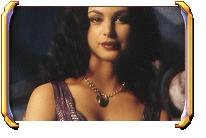 Inara – "The Ambassador"
A "Companion" by trade, Inara has her own space on the ship's shuttlecraft. She is a high-class courtesan in a time when prostitution is perfectly legal on most planets. Why she is on the decidedly working class Serenity remains a mystery.
MORENA BACCARIN
(Inara on FIREFLY)
Born in Brazil and raised in New York City, Morena Baccarin has acting in her blood, as her mother is well known South American actress Vera Setta. After attending the Fiorello LaGuardia School of Performing Arts, Baccarin was accepted to the prestigious Juilliard School, where she became one of the subjects of the PBS "American Masters" series on the school.
Baccarin makes her television debut with FIREFLY. She has appeared in several regional theater productions and was Natalie Portman's understudy in the New York Shakespeare Festival production of "The Seagull" with Meryl Streep and Kevin Kline. Her film credits include the independent features "Way Off Broadway" and Michael Rymer's improvisational "Perfume."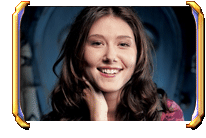 Kaylee – "The Mechanic"
The ship's engineer and bright light, Kaylee is more comfortable on "her" ship than on the ground.
JEWEL STAITE
(Kaylee in FIREFLY)
Born in Canada and raised in Maui and Vancouver, Jewel Staite started her acting career at the age of six and, before she was ten, co-starred in the telefilms "The Only Way Out," "Liar, Liar: Between Father and Daughter" and "Posing." Her first series, at age 12, was "Space Cases." At 14, she went on to gain a Gemini nomination for her role as Becca in "Flash Forward." Since then, Staite has had leading roles on "Just Deal," "Higher Ground," "Honey, I Shunk the Kids" and the award-winning Canadian series "Da Vinci's Inquest."
Staite has made numerous guest starring appearances in such series as "The X-Files," "The Immortal," "Seven Days" and "So Weird." Her feature credits include "Dangerous Care" with Laura Dern, "Goldiggers" and "Cheaters" with Mary Tyler Moore.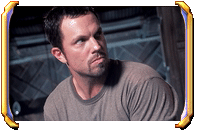 Jayne – "The Mercenary"
Big, tough and unpleasant; Jayne's a loyal soldier… until he gets a better offer and for now, the best one he's got is Serenity's. For now.
ADAM BALDWIN
(Jayne in FIREFLY)
A Chicago native, Adam Baldwin began his accomplished film and television career in the title role of "My Bodyguard." During that same year, he caught the attention of director Robert Redford, who cast him in the Academy Award-winning feature film "Ordinary People."
Most recently, Baldwin was seen in a recurring role as FBI informant/super soldier Knowle Rohrer in the final season of the long-running FOX drama series "The X-Files." Baldwin is also familiar to television audiences from his roles in the Emmy Award-winning miniseries "From the Earth To The Moon," the syndicated drama "The Cape" and the telefilms "Smokejumpers" and "Dr. Jekyll and Mr. Hyde," in which he played the dual role.
Baldwin's additional film roles include a soldier who truly loves war in Stanley Kubrick's "Full Metal Jacket," an abusive stepfather in "Radio Flyer," cowboy Tom McLaury in Lawrence Kasden's "Wyatt Earp," Major Mitchell in the blockbuster "Independence Day" and Captain Wilkins in Roland Emmerich's Revolutionary War drama "The Patriot."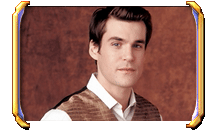 Simon – "The Doctor"
Simon is the doctor on board Serenity. He comes from a wealthy background and has had a privileged upbringing. He constantly disagrees with the captain's decisions.
SEAN MAHER
(Simon Tam in FIREFLY)
Sean Maher is familiar to FOX television viewers from his performances in three of the network's drama series. Maher most recently was seen in the Darren Star ensemble "The $treet" and appeared in the final season of the award-winning series "Party of Five." Maher made his television debut in the title role of the police drama "Ryan Caufield: Year One."
Born in Westchester County, New York, Maher graduated with a Bachelor of Fine Arts in drama from New York University, where he studied at the Tisch School of the Arts. His training included work with the Collaborative Arts Project Twenty-One, Shakespeare Scenework, the Experimental Theater Wing and Playwrights Horizons Theater School, as well as the Tisch School of the Arts in London.
Maher recently received critical acclaim for his portrayal of football player Brian Piccolo in the "Wonderful World Of Disney" remake of "Brian's Song."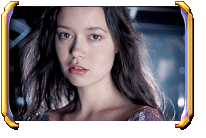 River – "The Fugitive"
Borderline psychic, River can read most minds and tends to speak not only what is on her own mind, but others' as well. The Alliance is eager to "recover" their genius.
SUMMER GLAU
(River in FIREFLY)
Arriving in Los Angeles just two years ago, Summer Glau makes her series regular debut on FIREFLY, portraying the emotionally fragile, yet intellectually gifted River.
A classically trained ballet dancer who also studied flamenco and tango, Glau has been dancing professionally since the age of 12. After appearing in a variety of regional theater productions, she made her television debut last season guest starring on Joss Whedon's "Angel."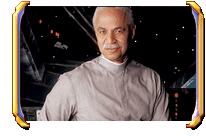 Book – "The Shepherd"
He is a priest, older and a little wiser than the rest of the crew. It is unclear if Book is on a mission to spread the word of God throughout the universe or on a personal "walk-a-bout." He's found God, but he still needs to find himself.
RON GLASS
(Book "The Shepherd" in FIREFLY)
Nominated for two Emmy Awards, actor Ron Glass is perhaps best known as the stylish and charming Detective Harris on the long-running hit comedy series "Barney Miller."
Born in Evansville, Indiana, and a graduate of the University of Evansville, Glass made his stage debut at the Guthrie Theatre in Minneapolis -- regarded as America's foremost classical theatre company -- starring in productions such as "The Taming Of The Shrew," "Misalliance," "The House Of Atreus" and "Ceremonies In Dark Old Men." Heading to Los Angeles, Glass quickly landed several guest starring roles on series such as "Sanford and Son" and "All In The Family," before beginning his eight-season run on "Barney Miller." Glass' additional series regular roles include "The New Odd Couple," "Rhythm & Blues," "Mr. Rhodes" and "Teen Angel."
Off the set, Glass currently serves as chairman of the board of the Al Wooten, Jr. Heritage Center. With the motto "Catch the Vision," the organization's goal is to empower the growth of young people in communities that are in crisis.
CREW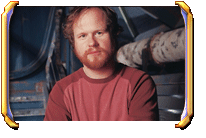 JOSS WHEDON
(Creator, Writer, Director and Executive Producer of FIREFLY)
Emmy and Oscar nominee Joss Whedon is one of Hollywood's hottest writers, having scripted several hit films and created some of the most acclaimed hours of television with "Angel" and "Buffy the Vampire Slayer." Whedon garnered his first Emmy nomination in the category of Outstanding Writing for a Drama Series for his groundbreaking episode of "Buffy the Vampire Slayer" entitled "Hush." The series was honored with the Founder's Award from Viewers for Quality Television.
Whedon earned an Academy Award nomination for Best Screenplay for the animated box office smash "Toy Story" starring the voices of Tim Allen and Tom Hanks. His big-screen writing credits also include the feature films "Buffy the Vampire Slayer" and "Alien Resurrection," the fourth film in the "Alien" series, which starred Sigourney Weaver and Winona Ryder. He also has worked on the screenplays for the runaway hit "Speed" and the action-packed adventure "Twister."
After receiving a degree in film studies from Wesleyan University, Whedon moved to Los Angeles and landed his first writing job on the staff of "Roseanne," working as a story editor and writing several episodes of the top-rated series. He later pulled double duty on the series "Parenthood," co-producing and writing a number of episodes.
Writing is clearly in his blood, since Whedon is a third-generation television writer. His father wrote for the likes of "The Dick Cavett Show," "Alice" and "Benson," and his grandfather was a successful sitcom writer in the '50s and '60s on "The Donna Reed Show" and "Leave It to Beaver."
In addition to serving as creator and executive producer on "Angel" and "Buffy the Vampire Slayer," Whedon also has written and directed many episodes of both series.
TIM MINEAR
(Writer, Director and Executive Producer of FIREFLY)
Tim Minear began making Super-8 movies in his backyard at the age of nine. Minear studied film at Cal State Long Beach and began his professional career as a production assistant, then assistant director, on films such as "Re-Animator," "The Men's Club" and "Platoon." After writing spec scripts, he was hired as a script doctor on several feature films before joining the cable series "The New Adventures of Zorro" as a writer. Additionally, Minear served as a writer on several additional series, including the syndicated dramas "Robin's Hoods" for Aaron Spelling and Stephen J. Cannell's "Two."
Minear spent two seasons as a co-producer/writer of the action/adventure series "High Tide." He was an executive story editor on "Lois & Clark: The New Adventures of Superman," where he penned several scripts before joining "The X-Files" in the same capacity. For "The X-Files," he wrote the episode "Mind's Eye," for which guest star Lili Taylor was nominated for an Emmy Award. Minear was a producer/writer on the sci-fi series "Strange World" before joining Joss Whedon's "Angel" as a producer/writer. Minear was elevated to executive producer of the series this past year, in addition to his writing and directing duties on "Angel."
Trademark and Copyright Notice: TM and © FOX and its related entities. All rights reserved.

Use of this Web site assumes acceptance of the

Terms of Use

and

Privacy Policy

.